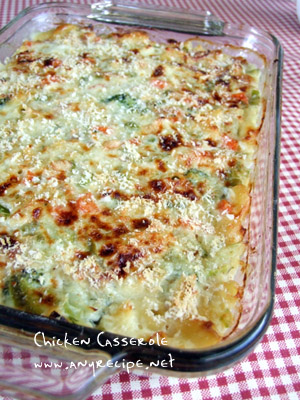 Chicken Casserole
A family favorite that both
kids and adults can enjoy.
Printable recipe
This recipe is for an 8 x 11 x 2.5" or 2 qt. casserole and makes 4 servings.
If you are using a 9 x 13 x 2.5" casserole dish, double the ingredients.
Ingredients:
2 tbsp butter
2 tbsp extra virgin olive oil
4 tbsp all purpose flour
1 tsp salt
3 cups (720 cc) 1% low-fat milk
1 cup left-over roast chicken, chopped
1/2 yellow onion, finely chopped
1 stalk celery, chopped
1 carrot, diced
1 cup (75 g) broccoli flowerets
1 cup (75 g) cauliflower flowerets
1/4 green bell pepper, chopped
1 cup (240 cc) dry macaroni
bread crumbs
Parmesan cheese
Grease the inside of the casserole lightly; this will make it easier to clean later. Preheat the oven to 400°F (200°C)
Fill a 2 qt. pot 3/4 full with cold water. Bring it to a boil and add 1/2 teaspoon of salt. Add 1 cup of macaroni. Once it starts boiling, scrape the bottom with a wooden spatula to loosen the macaroni stuck to the bottom of the pot. Cook until "al dente" (cooked but still firm). Drain and set aside.
In a large skillet melt 2 tbsp. of butter and 2 tbsp. extra virgin olive oil over low heat. Add 4 tbsp. all purpose flour and 1 tsp. salt. Cook and stir over low heat for 3 to 4 minutes or until the sauce becomes bubbly and runny.
Remove from heat. When the skillet has cooled down, add 3 cups of milk. Whisk until the flour and milk is well mixed. Return to the heat. Cook and stir over medium heat until the sauce just starts to boil. Remove from heat and set aside.
Heat 1 tbsp. olive oil in a skillet over medium heat. Sauté finely chopped onion, celery, and green bell pepper. Set aside.
Boil diced carrot, broccoli flowerets, and cauliflower flowerets (about 1/2 lb. or 227 g of vegetables altogether) until cooked. Alternatively, you can use a 1/2 lb. or 227 g of frozen mixed vegetables.
Add cooked macaroni, leftover roast chicken pieces, sautéed vegetables and boiled vegetables to the white sauce you created earlier. Mix well and pour into the greased casserole. Sprinkle bread crumbs and parmesan cheese on top of the casserole and bake at 400°F (200°C) for 30 to 40 minutes or until the top is nicely browned.
Copyright © 2008 Anyrecipe.net