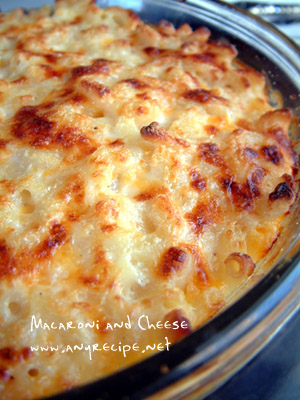 Macaroni and Cheese
A healthier, but still satisfying,
recipe for macaroni and cheese.
Printable recipe
This recipe is for an 8 x 11 x 2.5" casserole and makes 4-6 servings.
Ingredients:
2 tbsp butter
2 tbsp extra virgin olive oil (for the roux)
4 tbsp all purpose flour
1/4 yellow onion, finely chopped
1 tbsp extra virgin olive oil (for sautéing)
8 oz. (227 g) 2% low-fat sharp cheddar, shredded
3 cups (720 cc) 1% low-fat milk
2 cups (480 cc) dry macaroni
1 tsp salt
dash of nutmeg powder (optional)
1/3 tsp yellow mustard
2 tbsp bread crumbs
1 tbsp grated parmesan cheese
Preheat the oven to 375°F (190°C). Grease the casserole dish with salad oil.
Boil 2 cups of dried macaroni until "al dente" (cooked but still firm), drain and set aside.
Heat 1 tablespoon extra virgin olive oil in a skillet and sauté the chopped onions until they become transparent. Set aside.
In a large skillet melt 2 tbsp. of butter and 2 tbsp. extra virgin olive oil over low heat. Add 4 tbsp. all purpose flour and 1 tsp. salt. Cook and stir over low heat for 3 to 4 minutes or until the sauce becomes bubbly and runny.
Remove from heat. When the skillet has cooled down, add 3 cups of milk. Whisk until the flour and milk is well mixed. Return to the heat. Cook and stir continuously over medium heat for about 13-18 minutes, until the sauce just starts to boil. The sauce should be thickened at this point.
Reduce heat to medium-low and stir in the shredded cheddar cheese until it is completely melted. Stir in cooked onions, a dash of nutmeg power and 1/3 teaspoon yellow mustard. Add the boiled macaroni and stir.


Pour the macaroni and cheese mixture into the greased casserole. Sprinkle bread crumbs and parmesan cheese. Bake at 375°F (190°C) for about 30 minutes or until top is nicely browned.

Copyright © 2008 Anyrecipe.net