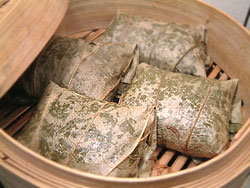 Rice in Lotus Leaf
from "
Dim Sum
" by Ellen Leong Blonder
Ingredients for 8 packets
2 cups glutinous rice (sweet rice)
1 teaspoon salt
4 dried shiitake mushrooms
4 dried lotus leaves
2 teaspoons soy sauce
2 teaspoons oyster sauce
1 teaspoons rice wine or dry sherry
1/4 teaspoon sugar
2 teaspoons peanut or vegetable oil
4 ounces (113 grams) boneless, skinless chicken( mixture of light and dark meat), coarsely ground
4 ounces(113 grams) shirimp, peeled, deveined, and cut in 1/2 inch chunks
1 Chinese sausage, cut in 1/4 inch rounds
2 ounces (56grams) Char Siu, cut in 1/4 inch dice
1 tablespoon cornstarch dissolved in 1/2 cup water or chicken broth

Instruction
Place the rice in a medium bowl with water to cover. Stir the rice gently with a wire whisk to wash it: then pour off the water. Add 1/2 teaspoon of the salt and enough fresh water to cover the rice by 1/2 inch, and soak for 2 hours.


Put the shiitake mushrooms in a small bowl and cover them with hot water. Let them stand for 30 ro 45 minutes to soften. Drain the mushrooms and cut off and discard the hard stems. Rinse the caps, squeeze them dry and dice them fine.


Cut each folded lotus leaf in half, into 2 double-layer quarter-circles. Soak them for 30 minutes in hot water to cover, pressing the leaves down into the water and turning them over occasionally so they are soaked thoroughly.


Rinse the leaves; then shake off the water. Cut about 2 inches off the point. Stack the leaves in the same direction and set aside.


Drain the rice thoroughly in a colander for about 10 minutes. In a rice cooker bowl, put well drained rice, 1/2 teaspoon salt, 1/2 teaspoon sesame oil and 1 cup water. Cook.


In a small bowl, combine the soy sauce, oyster sauce, rice wine, and sugar. Set aside.

Heat a wok or skillet, and then add the oil. When it is almost smoking, add the chicken and stir fry for 2 minutes, then add the shrimp and stir fry for 1 minute longer. Add the musrooms, Chinese sausage, Char siu, and soy sauce mixture and stir fry for 1 minute. Stir in the cornstarch mixture and cook for about 1 minute longer, or until the sauce has thickened. Remove from the heat.

Divide the rice into 8 portions. With wet fingertips, divide one portion of rice in half. Shape one rectangle onto the center of the leaf, Place about 1/4 cup of the meat mixture on top of the rice; then place the other rectangle of rice on top of the meat mixture. Press the layers together gently.




Fold the inner cut end of the leaf up over the rice. Fold in the left and right sides, and then roll the leaf away from you toward the curved edge to make a rectangular packet. Place seam side down on a steamer tier or in a heat-proof dish. Repeat the procedure with the remaining ingredients, to make 8 packets altogether. (At this point, you may cover and refrigerate the pakcets for up to 24 hours, or place the packets in a plastic bag and freeze them for up to 2 weeks. Thaw completely before steaming.)




Set up a steamer and bring the water to a boil. Steam the packets over high heat for 15 minutes, or until heated through. Refrigerated packets will require 20 to 25 minutes or heat in a microwave.


This recipe is from "Dim Sum: The Art of Chinese Tea Lunch
" by Ellen Leong Blonder. She provides 60 recipes, from siu mai to egg custard tarts, all illustrated by her own lovely watercolors. Every recipe I have tried turned out successful.