Banana Bread

Print this recipe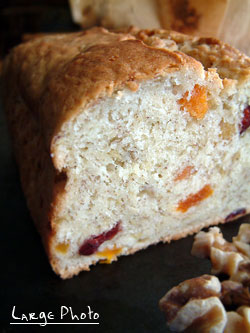 Have all ingredients at about 70°F (20°C). Preheat oven to 350°F (175°C). Line an 8 1/2 X 4 1/2-inch loaf pan with parchment paper or grease and dust with flour. If you have other pan size, use this calculator.

Sift together:

1 3/4 cup flour
2 1/4 tsp baking powder
1/2 tsp salt


Blend until creamy:

1/3 cup butter
2/3 cup sugar
3/4 tsp grated lemon rind


Beat in:

2 beaten eggs
1 1/4 cup banana pulp


Add butter mixture and blend well.

Add the sifted ingredients in about 3 parts to the mixture. Beat the batter after each addition until smooth.

Fold in:

1/2 cup broken nutmeats
1/4 cup finely chopped dried apricot


Place the batter in a greased bread pan. Bake at 350°F (175°C) for 1 hour or until done. Cool before slicing.