Orange Nut Muffins

Print this recipe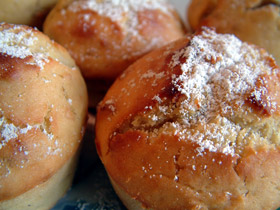 Ingredients
3/4 cup granulated sugar
2 tbsp. soft shortening
1 egg
3/4 cup milk
3/4 cup orange juice (about 2 oranges)
3 cup flour
3 1/2 tsp. baking powder
1 tsp. salt
1/4 cup nuts chopped
4 tsp. grated orange rind
Preheat oven to 350. Grease 9x5x3 inch pan, or 3- 20 oz cans.
Mix sugar, shortening and egg thoroughly. Stir in milk and juice.

Mix dry ingredients and add; blend chopped nuts and grated orange rind and add to above mixture.

Pour into prepared pan and bake 60 minutes, or until it passes the toothpick test. This is done by inserting wooden toothpick into the center of the muffin. If it comes out clean, the muffins are done. Top may split open during baking.