Marble Cake

Print this recipe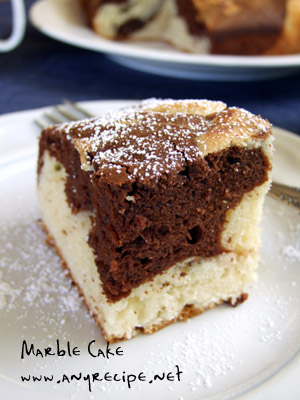 Ingredients:
2 1/4 cups (270 g) cake flour
2 tsp. baking powder
1/2 tsp. baking soda
1/4 tsp. salt
2 oz. (55 g) bittersweet chocolate
1 tbsp. honey
1/4 cup (55 g) butter
1/4 cup (55 g) salad oil
1 cup (200 g) granular sugar
2 tsp. vanilla extract
1 cup (240 cc) sour cream or plain yogurt
3 tbsp. hot water
2 tsp. instant coffee
some powdered sugar
Directions:
In a medium bowl, combine and sift cake flour, baking powder, baking soda and salt.
Chop the chocolate into smaller pieces. Heat in a microwave oven. Because chocolate burns easily, every 7 seconds you must check and stir when it starts to melt. Continue until all the lumps have melted. If you are using bitter chocolates, add 1 tablespoon of honey.
In a small bowl, mix instant coffee into 3 tablespoons of hot water until it dissolves completely.
In a medium bowl, mix butter using an electric beater. Gradually beat in sugar and salad oil. Beat in two eggs, one at a time. Add vanilla extract and yogurt (or sour cream) and beat until smooth. Divide the flour mixture that you prepared earlier into thirds. For each 1/3 flour mixture, sift in and beat at the lowest setting.
Preheat the oven to 350°F (175°C). Grease an 8 x 8" square pan. Drop half of the batter in the pan in random places, leaving parts of the pan empty.
Beat in the melted chocolate and coffee to the remaining batter. Drop in the chocolate batter to fill the gaps in the pan. Using a chopstick or spoon, swirl the chocolate batter to create a marble pattern. You can use a crosshatch pattern or create spirals. Smooth the top of the batter with a spatula. Bake at 350°F (175°C) for 30-35 minutes.
Sprinkle with powdered sugar and serve.