Artichoke Pizza
A bread machine is used.

Print this recipe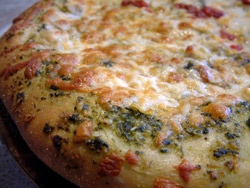 Ingredients for dough
1 cup and 2 tbsp. water
2 tbsp. olive oil or salad oil
3 cups high gluten flour
1 tsp. sugar
1 1/2 tsp. salt
2 1/2 tsp. dry yeast
Toppings
1/2 cup drained marinated artichoke (roughly chopped)
1/2 cup pesto sauce
2 cups shredded Monterey Jack and cheddar cheese
1/8 tsp. salt
3 tbsp. parmesan cheese
1 tbsp. olive oil
Put all the ingredients for dough in the machine and set it for "dough".
When the dough is ready, shape it and spread olive oil.
Spread pesto sauce, cheese and artichoke.

Sprinkle salt.
Bake at 400°F for about 15 minutes. Serve with parmesan cheese.