Falafel Salad with Yogurt Dressing

Print this recipe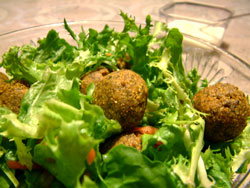 Ingredients
1 package of Falafel

8 oz. Spring salad

In a large bowl combine contents of one bag with 100 cc (1/3 cup plus 2 tbsp.) water. Let it stand for 10 minutes.

Shape mixture into 1-inch balls. Deep fry them or pour salad oil into heavy skillet to a depth of 1/2 inch. Add falafel and fry until golden brown, about 2 min. Remove and drain on paper towels. One bag makes 12 falafel.

Toss the spring salad mix with falafel. Serve with yogurt dressing.
For dressing
1 cup plain yogurt
1/8 tsp. salt
1/2 clove of garlic
1 whole lemon juice
1/8 tsp lemon zest