Coffee Liqueur

Print this recipe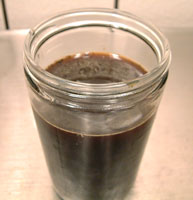 Ingredients
1 cup (237 cc) white sugar
1 cup (237 cc) water
1/4 cup (60 cc ) instant coffee granules
1/2 tbsp.vanilla extract
1 cup Vodka

Directions:
In a saucepan over medium heat, combine the sugar and water. Bring to a boil, reduce heat and simmer for 10 min.

Remove from heat, stir in instant coffee and let it cool.

When it is cool, stir in vanilla extract and vodka. Pour into a clean bottle. Close the bottle tightly and store in a cool dark place.