Red Bell Pepper and Mozzarella Salad

Print this recipe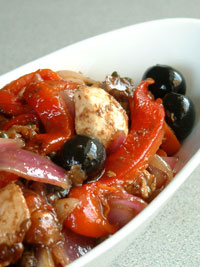 Ingredients for 6
4 bell peppers, red, yellow or both
1 yellow onion
2 tbsp. capers, rinsed
19 black or green olives
8 oz. mozzarella, cut into 1-inch chunks
For the dressing
4 tbsp. extra virgin olive oil
2 tbsp. balsamic or wine vinegar
1 cloves garlic, finely chopped
salt and ground black pepper
Broil the bell peppers and turn them periodically until the skin is blackened and mostly separated. Place the bell peppers in a brown paper bag and let them sit for 5 minutes.

Remove the skin, seeds and stems from the peppers. Cut the peppers into strips.

Slice 1 yellow onion into 1/2-inch strips and saute lightly with 1 tablespoon olive oil.
To make the dressing, put the oil and garlic in a small bowl. Mix in vinegar and add salt and pepper to your taste.

Put all the ingredients together in a bowl and toss with the dressing.
Allow to stand for at least 30 minutes before serving.