Bean Sprouts
Lemon Sesame Seasoning

Print this recipe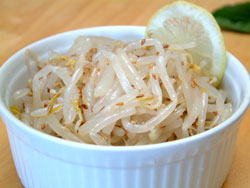 Ingredients
1 lb. (454 gr.) bean sprouts
1 tsp. sugar
1/8 tsp. black pepper
1/2 tsp. sesame oil
1 tsp. Memmi , or soy sauce (Memmi is flavored Kikkoman soy sauce.)

3/4 tsp. salt
1/4 tsp. grated lemon rind
1 tbsp. sesame seeds (optional)
Boil bean sprouts for about 5 minutes or until cooked with a pinch of salt.
Drain. While hot, sprinkle 1 tsp. sugar and mix well.
Add 1/8 tsp. black pepper, 1/2 tsp. sesame oil, 1 tsp. Memmi , or soy sauce, 3/4 tsp. salt, 1/4 tsp. grated lemon rind. If you like sesame flavor, add 1 tbsp. toasted sesame seeds.
Refrigerate and serve with green salad.