Eggplant Parmesan

Print this recipe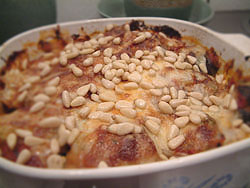 Ingredients
1 eggplant, peeled and sliced
1 medium size or 1/2 large yellow onion (sliced)
1 clove garlic, crashed
1 tbsp. olive oil
1 tbsp. pesto sauce
1 cup Prego spaghetti sauce
1/4 cup water
5 oz. cheese (shredded)
3 tbsp. pine nuts, toasted
2 tbsp. grated parmesan cheese
Peel an eggplant, slice and leave them in water for 10 minutes. Drain.

Saute onion, garlic and pesto sauce with olive oil until onion become translucent. Add 1 cup Prego spaghetti sauce and 1/4 cup water.

Line the eggplant in a greased casserole. Spread the spaghetti sauce over the eggplant. .

Spread 5 oz. cheese (shredded) and 3 tbsp. toasted pine nuts. Bake at 375°F for 20 minutes. Serve hot with parmesan cheese and pasta.