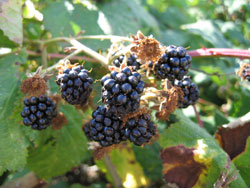 Tips from "Joy of Cooking"
A 9-inch fruit or berry pie needs about 4 cups of fresh fruit or 3 cups of cooked fruit.
Each type of fruit requires its own quota of sweetening. For example, 4 cups of gooseberries need about 1 3/4 cups of sugar, while blueberries may need no more than 1/2 cup plus lemon juice to heighten the flavor.
Acidic fruits should be thickened with tapioca starch, cornstarch or arrowroot starch because the acidity of the fruit may neutralize the thickening power of the flour.
Instructions:
Line a 9-inch pie pan with traditional, shortening-free or vegan pie dough.
Prepare by picking over and hulling:
Combine:

2/3 to 1 cup or more sugar
1/4 cup all-purpose flour
1 1/2 tablespoons lemon juice or 1/2 teaspoon cinnamon

If the fruit is very juicy and ripe, add:

2 teaspoons quick-cooking tapioca

Sprinkle the flour mixture over the berries and stir gently until well blended. Let stand for 15 minutes. Preheat oven to 450°F (230°C).
Turn the fruit into the pie shell. Dot with:

1 to 2 tablespoons butter

Cover the pie with a well-pricked top or with a lattice. Bake the pie at 450°F (230°C) for 10 minutes. Reduce the heat to 350°F (175°C) and bake 35 to 40 minutes or until golden brown.