Blueberry Muffins

Print this recipe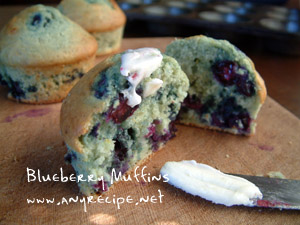 Preheat oven to 400°F.

Sift together:
1 3/4 cups all purpose flour
3/4 tsp salt
1/3 cup sugar
2 tsp baking powder

Beat in a separate bowl:
2 eggs

Add to the eggs:
2 to 4 tbsp melted butter
3/4 cup milk

Combine the liquid and the dry ingredients with a few swift strokes. Before the dry ingredients are completely moist, fold into the batter:
1 cup fresh(or frozen) blueberries, or 1 cup well-drained canned blueberries
1 tsp grated orange or lemon rind

Fill well-greased muffin pans two-thirds full and bake 20~25 minutes.