Salmon Pasta

Print this recipe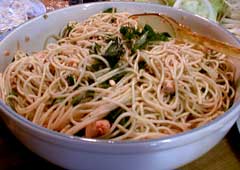 Ingredients
1/4 cup extra virgin olive oil
1/4 cup (1/2 stick) butter
2 large garlic cloves finely chopped
1 teaspoon salt, or to taste
Finely ground black pepper
1/2 cup freshly grated Parmesan cheese, plus extra for serving at the table
1/2 cup fresh Italian or flat-leaf parsley, coarsely chopped
Fresh basil leaves for garnish
1/2 Salmon
1/2 tsp. salt for salmon
Spaghettior linguine for about 5 servings
Sprinkle salt over salmon. Bake until done. Break the salmon into small pieces.
Melt butter in a microwave oven. Add olive oil, garlic, salt, and black pepper.
Boil pasta and drain. While the pasta is hot, pour butter and oil mixture and toss well.
Add salmon, basil and parsley and toss the pasta.