Custard Cream

Print this recipe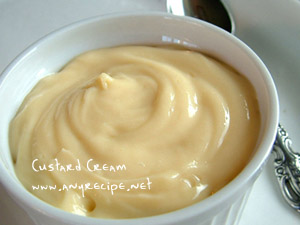 Ingredients
1 cup sugar
3/4 cup all-purpose flour
3/4 tsp salt
3 cup milk
3 egg yolks
2 tbsp butter
2 tsp vanilla
1/4 cup brandy
1/2 cup evaporated milk or whipping cream
Directions:
In a sauce pan put sugar, salt and flour and mix well.

Gradually add milk and mix after each addition.

Beat egg yolks separately and add to the mixture.

Slowly bring to boil stirring constantly until thickened. Add butter and stir.

Let it cool to room temperature or in a refrigerator.
Add evaporated milk, vanilla, and brandy. Whip the mixture with a blender.