1. Prepare an 8 or 9-inch sponge cake.
2. Cut a cake in half horizontally.
3. Spread evenly on the bottom layer: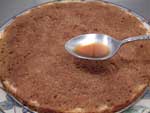 4. Beat whipping cream. Add and whip until fluffy:
4 oz. (113 gr) whipping cream
1/8 cup sugar
1/4 cup of coffee liquor or Kahlua
5. Spread the whipping cream mixture over the bottom layer and put the other half of a cake on the top.
6. Spread on the top layer.
1/2 cup very strong coffee
7. Beat until creamy:
8 oz. (227 gr) mascarpone
1 tablespoon sugar
8. Spread creamy mascarpone over the top layer.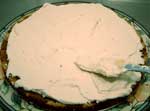 9. Garnish with cocoa powder or grated chocolate.